8 HOLIDAY DÉCOR CLICHÉS YOU SHOULD NEVER DECORATE WITH
2014.12.23
---
Designers weigh in on what to avoid this holiday season (and offer good alternatives)—because Santa and the whole reindeer gang are better left to the North Pole.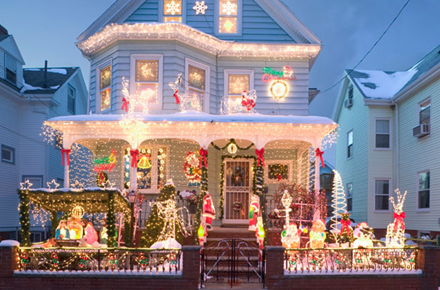 1. Tinsel and strands of beads. "If I never saw tinsel again I'd be happy," says designer Kati Curtis. There are other ways of approaching the traditional firs or tree, designer Gideon Mendelsonsuggests wrapping a ribbon loosely around a tree, "It's always really beautiful."
2. Extravagance. "When all of the reindeer show up on your lawn you've gone too far," says Mendelson. This isn't Times Square, "Its unnecessary, a couple of candles in the window are really effective."
Designer and blogger Nicole Gibbons agrees, "I love the look of a simple and elegant wreath hanging in front of a window."
3. Battery operated candles. "There is no worthy alternative to a great candle," says Lindsey Schwartz of Curated by St. Charles. "Battery operated candles are a trend that I'm happy to blow out."
4. Surfaces cluttered with trinkets. "If you have a collection of miniature porcelain figurines, I'm talking to you," says Schwartz. "Avoid the antiquated trend of adorning one's surfaces with small seasonal items and supplement small surface fillers with large hanging statement items." This way you keep your surface area and the functionality of your room.
"Pick your moments for the decor," says designer Sara Gilbane. "Every table top does not need to be covered. An entry foyer is a wonderful spot for garlands, a hallway console for a nativity scene."
5. Strong scented candles. "[They] make a room smell cheap," says designer Kelly Lamb. "It is much more intriguing to smell hints of fragrance than to be over whelmed by it." Opt for a subtle, more natural scent to bring in the holidays.
"I usually buy one or two a year hoping that they will smell good. They never do," warns designerJon Call. "I constantly remind myself to not do it again. I am hoping to stay strong this year and give in to old habits."
6. Poinsettias. "I have a definitive aversion to poinsettias," says designer Robert Passal. "I think they become the mums of the holidays."
Yes, the flower is a common plant for the season, but there are many alternatives. "A great alternative is feathers in a great festive vase," explains Passal. "It's nice, chic, sophisticated holiday decor."
Another option? "Opt for simple bouquet of roses with a velvet ribbon tied around the vase," says blogger and designer, Nicole Gibbons. "Or an indoor wreath to bring some greenery into your space."
7. Printed wrapping paper. A pet peeve of designer and blogger Mark D. Sikes, "At the least you should have rolls and rolls of craft paper with lots of gros grain ribbon. To make things even more special I try to pick a signature color paper."
His choice? "Last year was robin's egg blue, this year I'm thinking moss green paper with China blue ribbons."
8. Fake greenery, garland or snow. Nothing replaces the feel and smell of the real thing. Greens last a long time in your home and add to the atmosphere. "When you have something real, you have the sense of smell," says designer Daun Curry. "And it's about the senses.
Source: House Beautiful
The 49th Jinhan Fair
Jinhan Fair Online Exhibition