Living Room Features That Never Go Out of Style
2014.12.16
---
They're the simple pieces that stand the test of time. Never in or out of fashion, the items in this bunch are classically chic and tasteful, and eternally look good (so you won't be forking over money to replace them in two years' time). Forget passing interior fads and fly-by-night trends; here are the oldies but goodies every living room needs.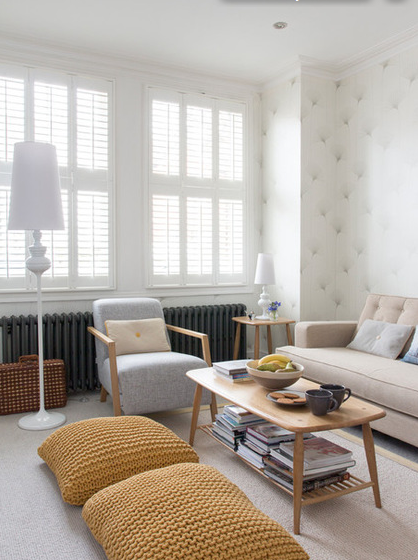 Plantation shutters. These elegant window dressings have become the perfect solution for metropolitan homeowners who don't want sheer curtains but aren't keen on passersby snooping, either. Here their crisp, clean lines and white color add to the room's bright, breezy feel. The other plus, of course, is undeniable curb appeal.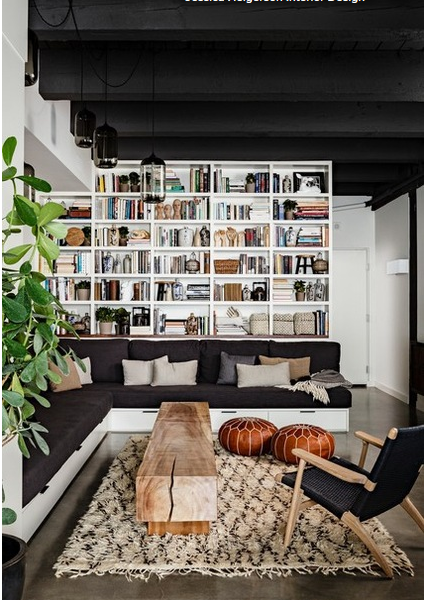 Moroccan pouf. It's that age-old problem: where to prop your feet when you're relaxing on the sofa? The obvious solution is a Moroccan leather pouf. Simple and compact, these versatile little seats work surprisingly well in a variety of settings, not just souk-style rooms. Here a pair of brown leather poufs adds impact next to a plain corner sofa, complementing the sophisticated design scheme brilliantly.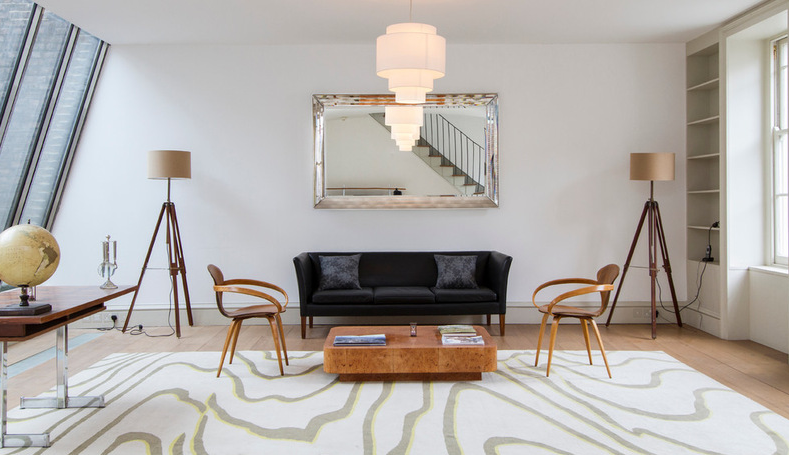 Tripod floor lamp. The architectural lines of the tripod floor lamp have made it a living room staple in recent years, and it looks set to stick around. As well as adding atmospheric pools of light, these cool pieces make a statement in their own right. Place one at either end of a sofa, as here, for oomph. If you don't fancy neutral lampshades like the ones here, swap them for colorful ones to energize your scheme.
Chesterfield sofa. It's an ongoing favorite in fashionable bars and boutique hotels, and no wonder. With their clean lines and comfort, button-backed chesterfield sofas are truly timeless, and look as good in a modern warehouse apartment as in a grand country abode. The classic version comes in tan leather, but for a sumptuous update, I love the raspberry-pink and pewter-colored velvet numbers here.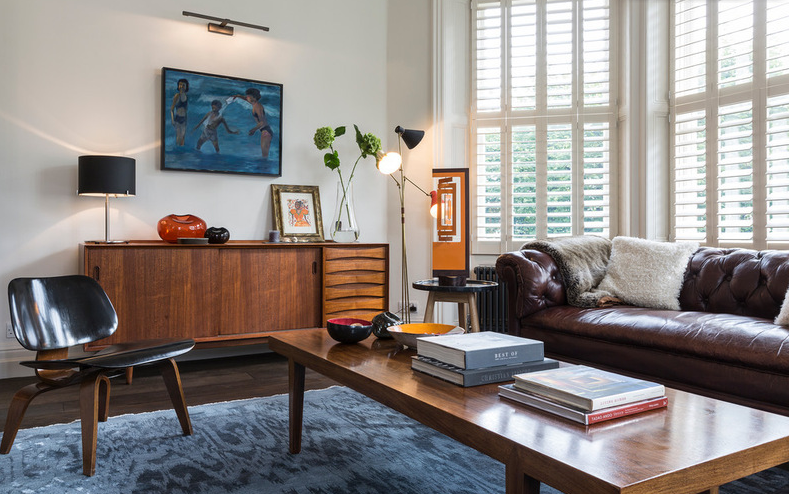 Retro sideboard. It might not feel as key as a coffee table or sofa, but a stylish vintage sideboard transforms the look of a living room (and keeps clutter at bay, too). Here a midcentury number adds a quirky retro attitude and provides a handy surface for showing off precious ornaments and pictures. For a timeless look, stick to warm woods, such as teak or rosewood.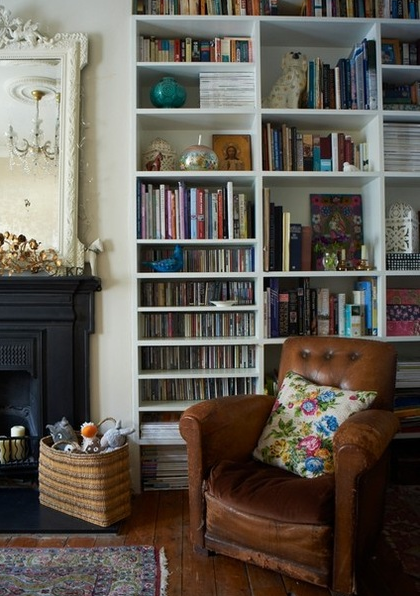 Leather club armchair. Fancy the private members' club look? Then opt for a classic, deep-seated leather armchair like this one; the more battered, the better. Buy secondhand for extra lived-in character, or source a vintage-look piece about town (feather-filled cushions offer an added slouch factor). Prettify it with a floral cushion, then sit back and relax with a cuppa (or glass of port).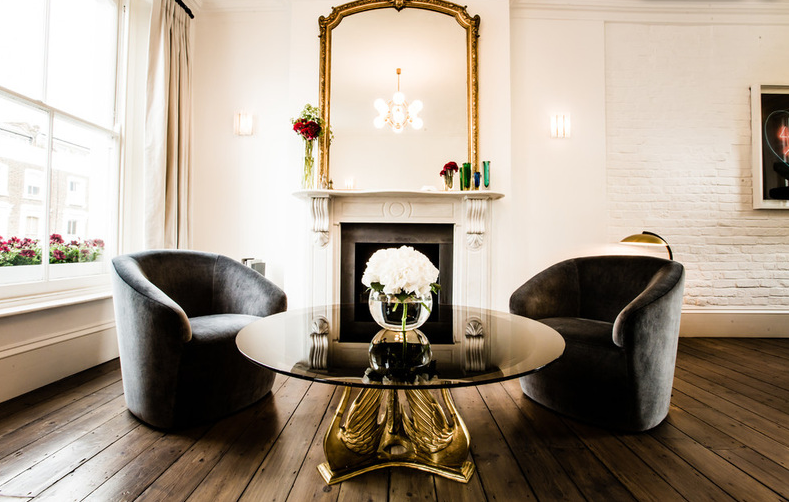 Decorative over-the-mantel mirror. It's the oldest interiors trick in the book. A striking over-the-mantel mirror gives even a supersnug living room a sense of space and light. However, don't settle for just any old mirror. For old-school elegance, go for a Shabby Chic–style French-looking piece with an ornate white plaster or gilt wooden frame. If you can afford to, get an original vintage mirror, complete with authentically aged silvering. If not, consider reproductions — they work a similar magic for less cash.
Picture cluster. OK, you've seen a thousand feature walls with multiple frames and artworks. But there's a reason this idea has stuck: It works. A cluster of pictures turns an ordinary living room into a home. Hanging one is an easy way to reflect your personality, as seen in this quirky abode, and whether you line up or misalign the frames, mix or match, somehow everything always hangs together.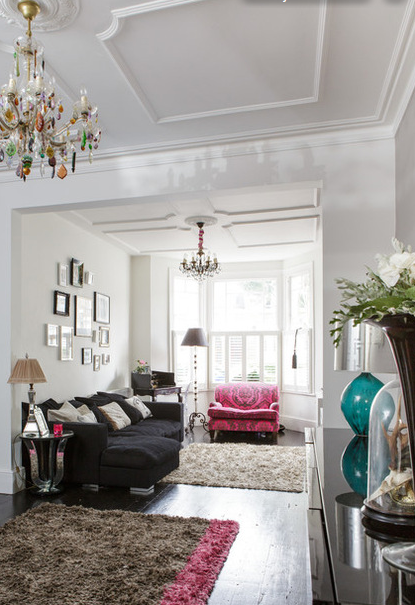 Crystal chandelier. It might be all about low-slung pendants and marquee lights right now, but a crystal chandelier is never dated. More than a mere light, it adds instant sparkle, glamour and just a smidgen of grandeur to any space. Even a budget model — as opposed to an original French rewired antique — gives that extra je ne sais quoi. Don't automatically choose bronze, by the way. The jewel-like version here perks up a plain ceiling and echoes other colors in the room.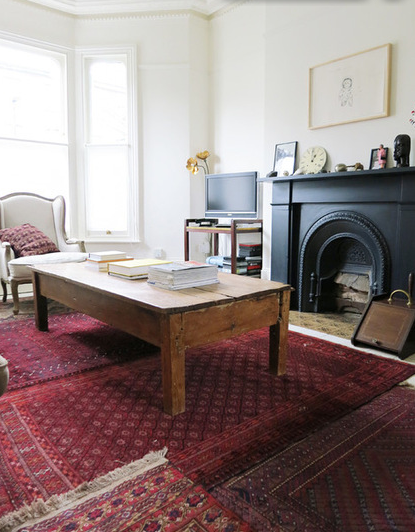 Persian rug. Their intricate patterns and warm colors give any space a homey feel, as well as a touch of exoticism. Plus, these traditional rugs work equally well laid over wooden floorboards, stone or carpet. Period settings are their natural habitat, but they can also cozy up a modern space. For a tapestry effect, mix several smaller rugs, as seen here. The most skilfully handwoven rugs can be pricey, but purse-friendly designs are not hard to find.
Source: Houzz
The 47th Jinhan Fair
Jinhan Fair Online Exhibition