Contemporary Christmas sitting room ideas - 10 of the best
2014.12.05
---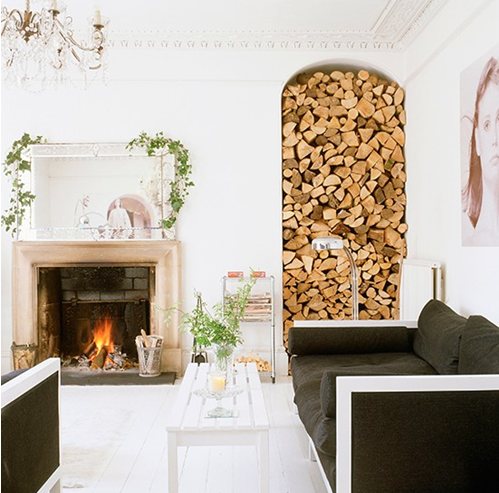 White-on-white
An all-white room is the decorator's perfect gift at Chistmas: add colour, play with a white-on-white palette, or do as has been done here and keep it monotone, simple and natural. Take cuttings of ivy from the garden and curl them around mirrors and fire mantels, over pictures and along one or two shelves. Make sure the trails stay out of reach of living flames and remember, less is more if you want to avoid turning your sitting room into a greenhouse. Add more festive ambience with a scented candle; something with a note of incense or smoky tones lifted with a hint of exotic patchouli, perhaps.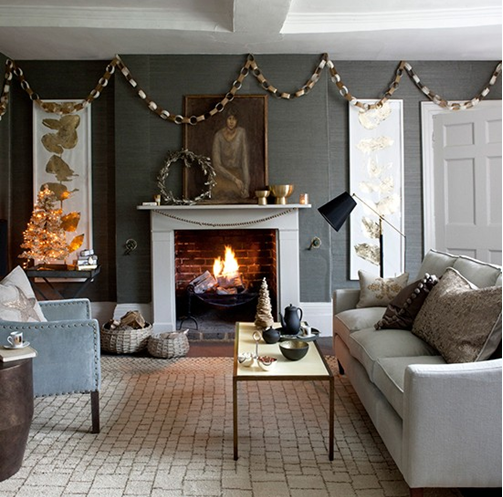 Grey and gold
This town-in-the-country take on Christmas is sophisticated but ever so comfortable, courtesy of the cocooning effect created by the dark grey walls and layers of texture - from the velvet-upholstered armchair and linen-coved sofa, to the wool rug and woven baskets. Festive paper chains and a tabletop paper tree in shades of gold add a note of luxury to the grown-up scheme, the firelight catching on the matt and softly burnished surfaces so they gleam in the winter morning light.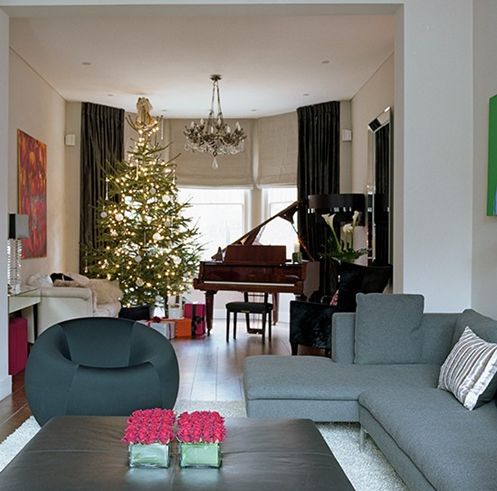 Feature tree
Let your Christmas tree do the talking in a large open-plan space, especially if you have very high ceilings. Positioning is key, of course; the tree will be a focal point while you open presents on Christmas Day, but before and after, you want to be able to see it without it getting in the way. Set between the piano and a sofa, this tree is framed and protected so it looks spectacular but is safe from excited children and dogs running amok. Decorating tip: save time, effort and decorating failure by putting the star/fairy and the lights onto the tree first.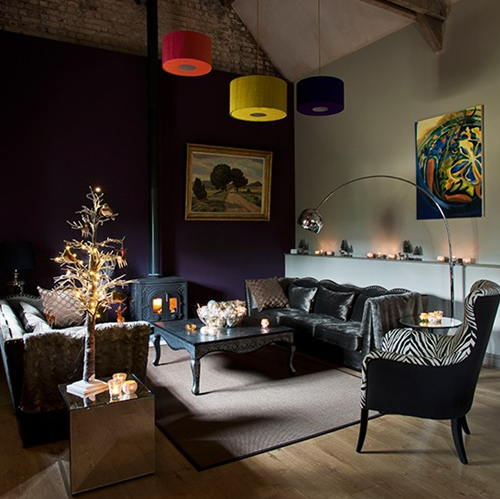 Mood lighting
Drop the lights and ramp up the mood after lunch with capacious seating, lambswool and faux fur throws, real fires and plenty of candles. Groupings of tea lights and miniature Christmas trees set all around the room will delight the eye and translate the space into a winter wonderland for the evening. Make sure you stock up on bags of tealights and watch out for over-heated surfaces beneath the candleholders.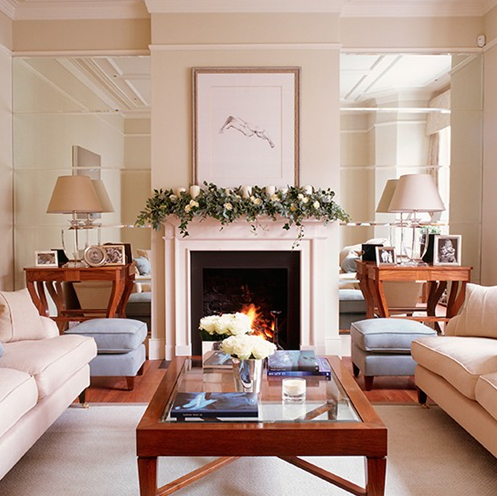 Simple and chic
Nothing says classic contemporary Christmas like gloriously plump cream roses, fragrant eucalyptus and fat church candles formed into a bold garland for the fireplace. To err on the side of lean and contemporary, you need to resist the temptation to overplay the floral decorations. The pair of cream posies in the foreground here, set in silver vases to complement the silverware on the side tables, is all you need to keep the look beautifully cool.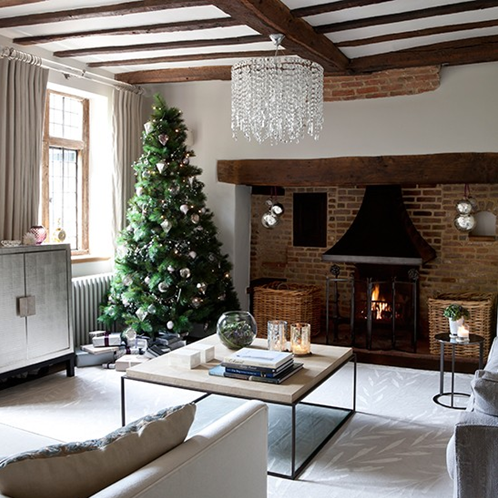 Co-ordinated Christmas
Edit the contents of your festive store so that every piece co-ordinates virtually seamlessly with your room scheme, making Christmas part of your interior design lexicon. Beams and an inglenook fireplace are given a 20th-century treatment here, with clear glass baubles and hard diamond-shaped drops mixed with flat, milk-white accessories and presents wrapped in silver and tied with amethyst-coloured ribbons.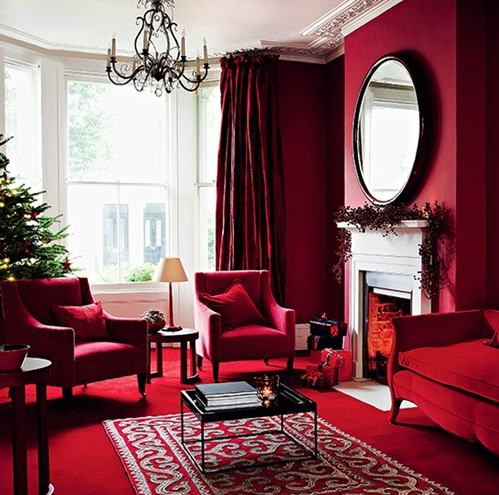 Berry red
Adding a full-on collection of Christmas decorations to this room would be foolish as it would detract from the rich but clean-lined drama of this alternative vision of a contemporary sitting room. So, hold back, select one or two of your favourite pieces or must-have traditions, place them with care, and then leave things be. Try perspex stars and star-shaped lights instead of gilt and glass for the tree, and use faux berries instead of flowers for a delicate finishing touch.
Winter glow
By contrast with the ruby red scheme, this setting of moody blues based around a bold tartan carpet is given a sense of winter warmth with metallic tones and twinkling fairy lights. A garland of frosted pine cones and matt-white, lazer-cut wooden stars play a rustic tune, while peacock-blue baubles add shiny high notes to the heather-hued soft furnishings.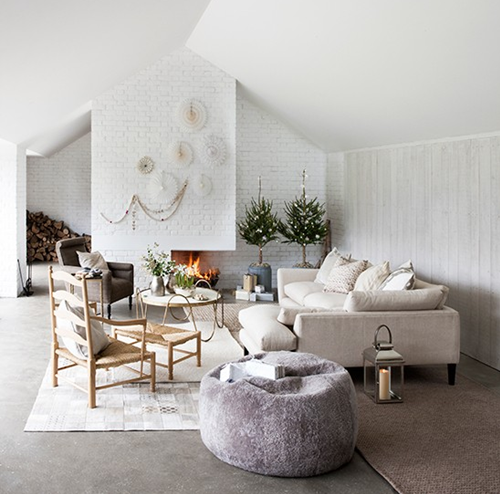 Light touch
An irresistibly comfortable take on the white-on-white look, with paper stars and baubles, cushions and furnishings in creams, café crème, ginger and cocoa. Keeping things simple (metal tree planters make perfect Christmas tree stands, with brown and white paper for present wrapping) and taking time to play with ideas like the abstract arrangement of garlands and paper stars on the chimney breast are the secret to making this peaceful scene so cosy.
Retro Christmas
Jewel colours and a joyful, relaxed approach to decorating lie behind this sophisticated mid-century modern Christmas sitting room with its nod to the harlequin and party time. The presentation is playful but both the arrangement and the palette of the decorations and furnishings have been carefully selected to be complementary, with shades of burnt orange, ruby pink, lime green and cream-white to lift the sable notes.
Source: House To Home
The 48th Jinhan Fair
Jinhan Fair Online Exhibition