9 Easy Ways to Decorate With Autumn Leaves
2014.09.26
---
The wonderful thing about decorating for fall is that you often don't have to go farther than your neighborhood for materials. Autumn decor revolves around harvest and nature's bounty, so the beauty of the outdoors is all you really need for seasonal decorations — especially if you're lucky enough to live where leaves turn brilliant shades of orange, red and yellow. Read on for a few simple and budget-friendly decorations that rely on the simple beauty of fall.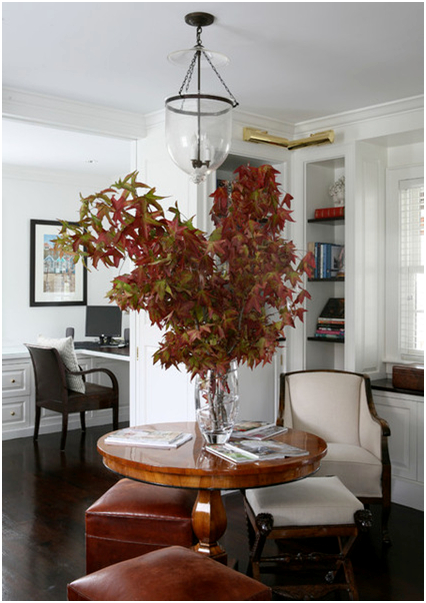 When you're using colorful leaves as decor, you don't need to do much to highlight their natural beauty. In this room, the rustic and natural look of the centerpiece provides a great contrast to the polished interior. So, just clip a few branches off a colorful tree and place them in your favorite vase. The bigger the arrangement, the more of a design statement the branches will make.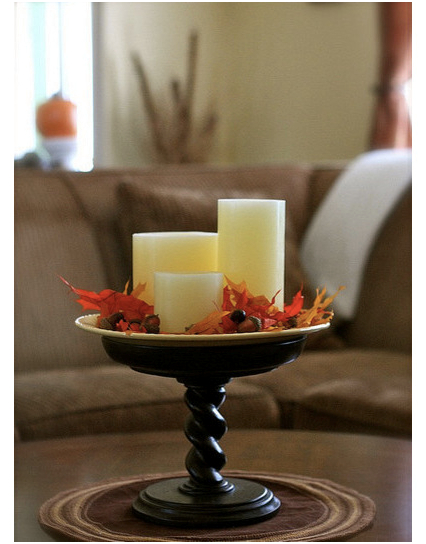 Kelly of Live Laugh Rowe has a ton of wonderful fall decor ideas, but one of my personal favorites is this simple centerpiece. Put an autumn-themed plate or bowl on top of a candlestick or cake stand. Fill it with leaves, acorns and candles for a simple and casual look. Kelly used electric candles in this centerpiece, which are much safer around dry leaves than regular candles.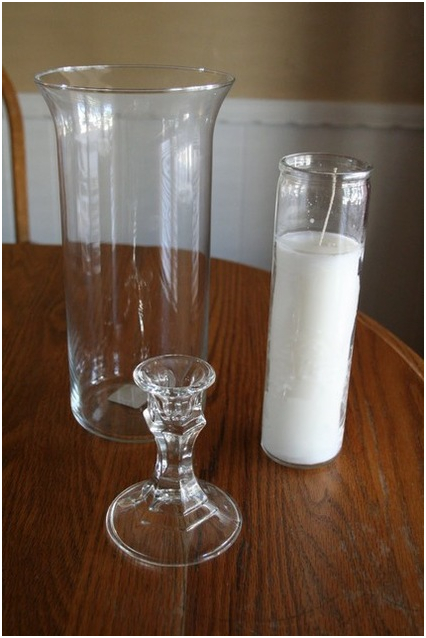 Melissa of 320 Sycamore Blog fell in love with a classic Williams-Sonoma glass hurricane filled with autumn leaves in one of their catalogs, but didn't want to have to pay a fortune to get it. Instead, she made a trip to her local dollar store and found a glass candlestick, a white candle, and a clear glass vase.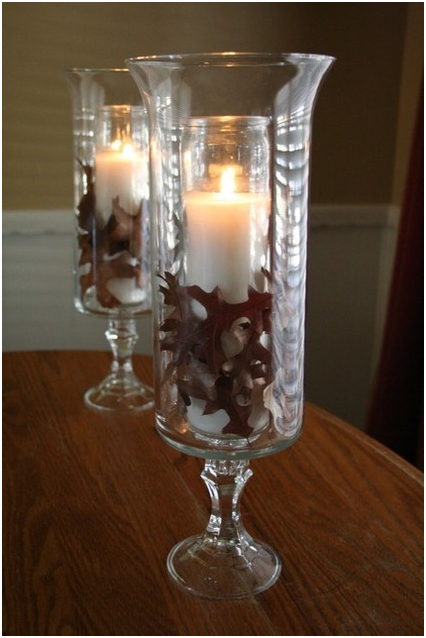 Melissa simply hot glued them all together, and filled them gently with leaves from her backyard. Voila! An easy and affordable DIY version of a Williams-Sonoma classic.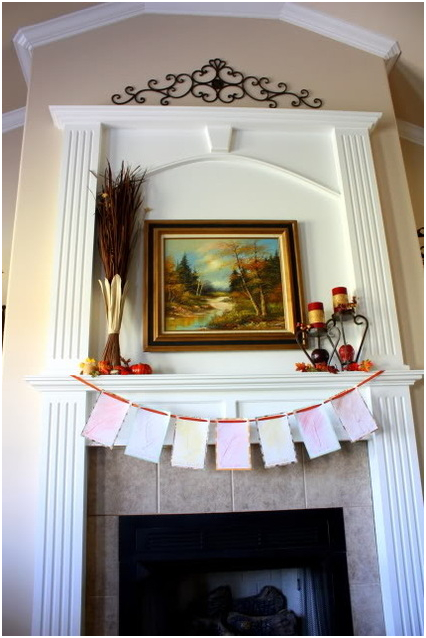 If you have children, odds are they'll want to help out with fall decorating. Myra at My Blessed Life came up with an idea for a cute fall garland that's budget and kid-friendly.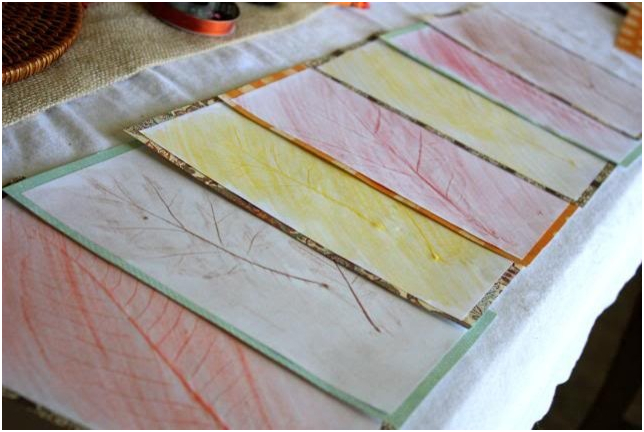 To make Myra's garland, first go out and find some great fall leaves. Then, put the leaves underneath a sheet of paper, and color over them with crayons in autumn hues. Cut each drawing out and glue it onto nice scrapbook paper. Punch a hole in each piece, then string them up with ribbon or twine.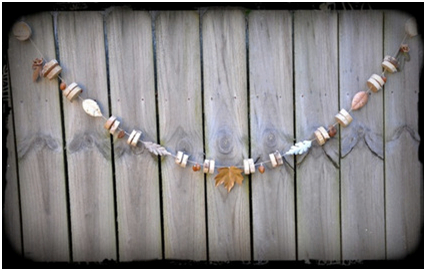 Amanda Hofmann of Amanda Hofmann Designs used a combination of natural materials with her hand-forged metal leaves for this unique and rustic garland.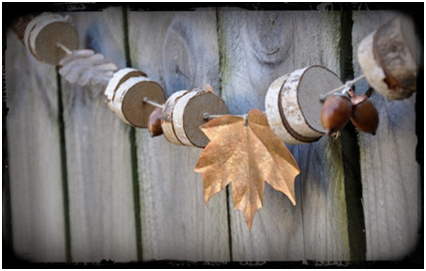 Hofmann used a combination of acorns, birch discs, and black walnuts for this piece, and strung them up on hand-dyed natural fiber twine. Use whatever you can find in your backyard to recreate this same look! Real leaves, flowers in fall hues, bark, and pinecones would all look beautiful strung on rustic twine.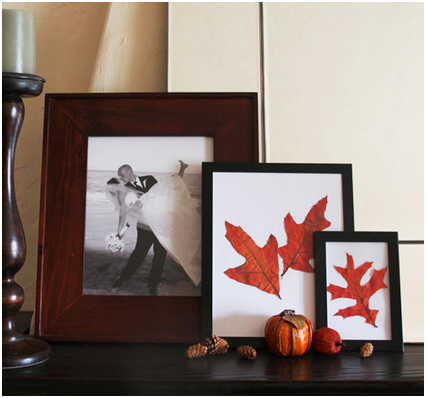 Morgan at Pepper Design Blog kept it simple by framing colorful plastic leaves in bold black frames with a white backgrounds. Pressed dry leaves would work well and add an organic look, but there just aren't that many fall leaves in San Diego where Morgan lives! Place leaves against a contrasting colored paper and frame for simple, elegant, and affordable autumn art.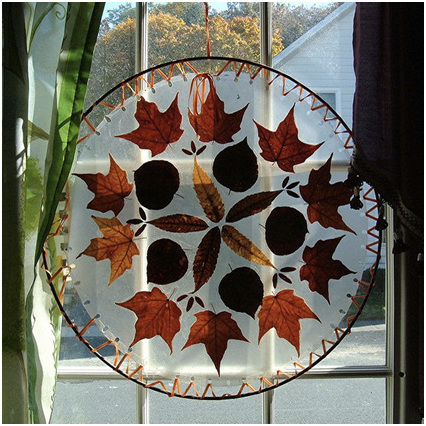 Maure Briggs-Carrington made this beautiful window piece, which looks like an autumn-themed dream catcher. Placed between two sheets of contact paper, this fall art allows orange and red light to filter through the window. Cut contact paper into circles, sandwich the leaves between, and punch holes around the edge. Carrington laced orange satin ribbon through the holes, attaching the contact paper to a metal ring.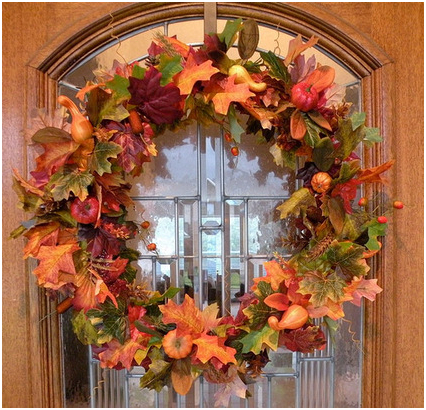 This beautiful front door fall wreath was made by Allison at House of Hepworths, using materials that she found at her local dollar store. Allison used fake leaves to make this piece last for more than one season, but real leaves would work as well. All you need is a wicker woven wreath base, assorted fall leaves, and a hot glue gun. Space the leaves out and use different colors to add visual interest, then use the hot glue gun to affix them to the wreath base.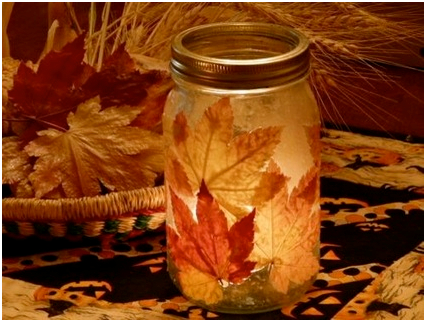 Pam at Gingerbread and Snowflakes used old-fashioned Mod Podge to make this beautiful candle holder. First she dried and pressed fall leaves overnight. After washing and drying a mason jar, she applied Mod Podge all over it, pressed the leaves on, and covered it all with another coat of Mod Podge. To make sure it would all stay, she let it dry thoroughly, applied a second coat of Mod Podge, dried overnight, and then sprayed with an acrylic spray.
Source: Houzz
The 49th Jinhan Fair
Jinhan Fair Online Exhibition