Trend Ahead: The thrill of the hunt
2014.09.23
---
If it is, indeed, "only the details" of how we live that distinguish us, perhaps those details become no more apparent than in our choice of home décor and design. It seems appropriate, then, that the latest trend being seen in stores around the country is a nod to Papa, as I have just seen from Beverly Hills to Aspen, Colo., in the finest stores of tabletop and design.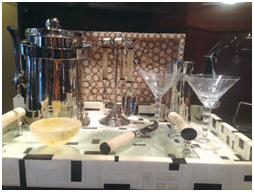 Chequers in, Aspen, Colo., highlights a variety of horn and antler pieces, particularly in tabletop accessories and barware.
"Fauxidermy," as it has been labeled, allows animal-inspired design innovation without the hunt. No longer just for the lodge, this style of décor is now front and center in even the mostdeluxe of show homes, hotels and resorts.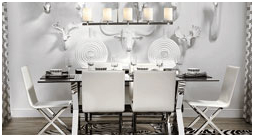 Z Gallerie'sFauxidermy display in white lacquer offers an edgy twist on the hunt theme.
The composition materials are endless. Mounts are made from ceramic, recyclables, natural sheds and resin.
Brooklyn-based designer Tamar Mogendorff even lends a feminine touch to her contribution to the trend. Her linen deer, unicorn heads and sequined horns are highly sought-after. In a twist that would surely elate Hemingway, her animal heads come adorned with long, luxurious lashes. Her mounted storks take flight with unorthodox style.
Perhaps an even more sweeping trend is decorating with horns and antlers. Nature's perfect sculptures are often now accompanied by texture and complex hues, making them a favorite among the hottest designers and even those revered for a lifetime of work. Of course, it's hard to imagine "rustic" without the antler. One Kings Lane recently featured an extraordinary handmade Wyoming antler chandelier. On the modern side of this trend, horns serve as handles and antlers as tabletop design.
One need not look any further than Z Gallerie's Fauxidermy category to see the trend in its optimal setting. Here, affordable mounts from moose to giraffe are offered in glossy silver resin. Suddenly, a home doesn't seem complete without the stark white rhino head or gazelle plaque. Mounts hang easily from one nail, truly making it design for everyone. Labeled the "modern menagerie," fauxidermy replaces the blase.
Generations of people have been preoccupied with the natural world and their place in it, so it seems instinctive to consider Hemingway and his love of the wild as an inspiration for the home. Now those who chose to bring the bucolic indoors are now able to do so in divergent ways. Appreciation of life and the symbiosis between all of us are core to this new design concept, with kindness, art and innovation adding a fresh take on what has always surrounded us.
Source: Home Accents Today
The 47th Jinhan Fair
Jinhan Fair Online Exhibition