14 Fab Black and White Home Projects
2014.08.26
---
You would be hard-pressed to find another color combo quite as effortlessly cool as black and white. Black and white decor, whether in the form of a graphic wallpaper pattern, black and white photography, or something else, can add elegance in an instant. From DIY art and wall treatments to furniture makeovers, these 14 project ideas have chic black and white style and won't break the bank.
1. Patterned nook. A small nook, like this entryway, is a great place to experiment with pattern, because it requires only a small amount of wallpaper, decals or stenciling to have a big effect. And if you stencil, graphic black and white is a foolproof choice.
2. Abstract art. A few loose swirls of black paint on white paper? You can do that! Place your creation in
lim white frame and hang it with pride.
3. Typographic art. Pick a quote that has meaning for you and turn it into art in a snap by stamping, painting or simply printing out the words. Place your creation in a rustic wooden frame for a handmade look.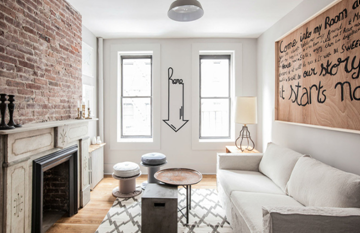 4. Large-scale plywood art. Looking for a big piece of artwork but haven't found just the thing? Consider making your own by painting a quote or favorite song lyrics on a piece of plywood. Screw the plywood directly to the wall and frame it with pieces of molding from the hardware store.
5. Spool stools. Old wooden spools that were once used to hold cable can be transformed into handy extra seats for your living room with a lick of paint and a soft cushion on top.
6. Blackboard calendar wall. Map out a few months at a time on a supersize chalkboard wall calendar. If you are concerned about the lines becoming blurred, use white masking tape to mark out the grid instead of chalk.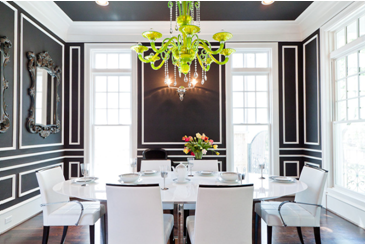 7. Graphic molding. White decorative molding on black walls can take a plain dining room from boring to jaw-dropping for only the cost of paint and a few other supplies.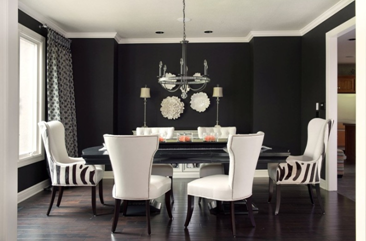 8. Black wall, white plates. Another way to get a graphic effect in the dining room is by hanging white plates or platters on a black wall. And you don't need fancy decorative plates like the ones shown here for it to work — a random assortment of white platters would look just as striking.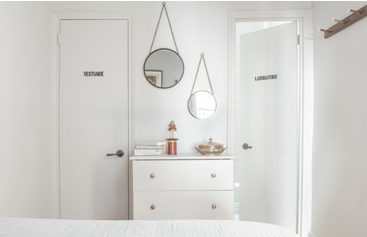 9. DIY door signs. Scoop up some black alphabet stickers at the office supply store, and have some fun thinking up creative labels for your interior doors — words in a foreign language are always appealing! Use a level to trace a straight line where you want the word to go before applying the letters.
10. Painted thrift store chest. Take the tackiest, cheapest thrift store or hand-me-down chest you can find (you know the type — horrible veneer; cheap, brassy handles) and give it a new lease on life with several coats of white paint. To make paint last on knobs and pulls, remove them and paint them outside using spray paint designed to adhere to metal.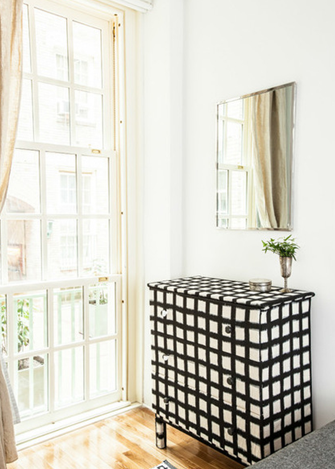 11. Upholstered dresser. A basic Ikea dresser looks like a custom piece when covered in padded fabric in a black and white print. For a slightly less labor-intensive project, adhere fabric directly to the dresser without padding, decoupage-style.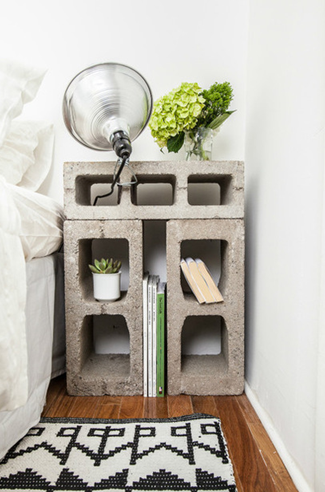 12. Cinder block nightstand. If you have bad memories of cinder block bookshelves in a college apartment, feel free to give this project a pass. But if you are willing to give it a try, you may be surprised at how chic cinder blocks can be — I would paint just the edges black for a sleek, modern look.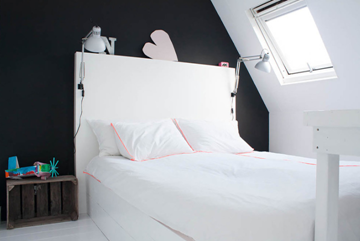 13. Black accent wall. An all-black room can easily overwhelm, but keeping the other walls white balances the dramatic effect. This works especially well when you can use the color to emphasize architecture, as in the upper-floor bedroom shown here.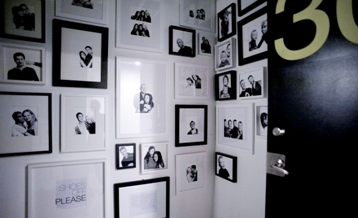 14. Black and white photo corner. Fill a blank corner with black and white photos — hang frames from floor to ceiling for the boldest look. If you are short on photos, fill in empty spaces with black and white postcards and art prints for a fun, graphic mix.
Source: Houzz
The 48th Jinhan Fair
Jinhan Fair Online Exhibition