Small-Space Living: The Five Tricks You
2014.07.25
---
You already love that it's efficient, cozy, and affordable, but to really embrace your small space, you have to make it stylishly functional, too. Do these five essential things to fully maximize small-space living.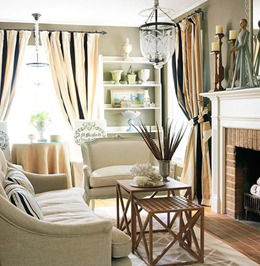 1. Reach High
Amplify the height of your small space to make it look and feel bigger. Paint the ceiling a bright, crisp shade of white to reflect light and feel airy overhead. Hang curtains above the molding or at the ceiling so windows appear taller, and dangle chandeliers or lanterns over seating groups to draw the focus up. In this tight living room, everything reaches to the stars, such as the bookcases and the elongated candlesticks on the mantel, which creates the illusion that the room is grander than its proportions.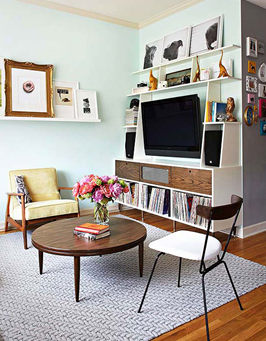 2. Show Some Leg
Another way to create the illusion of a larger space is to keep as much floor space open as possible. This allows for easy traffic flow, and it contributes to a clean, uncluttered look. For example, the owners of this condo chose leggy furniture to make the living room feel light and the furniture buoyant. Dense upholstery with skirts that fall to the floor would visually clog the room. Even the entertainment center perches on slender wood legs so it appears to float above the hardwood floor.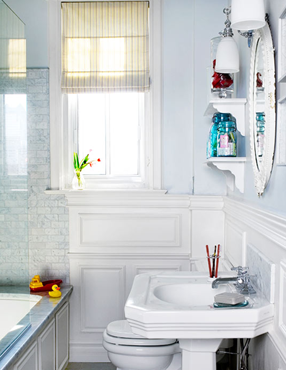 3. See It Through
Any time you can unblock the sightlines and let the eye naturally see through the entire space, you make it seem larger. In the case of this itty-bitty bathroom, the owners eliminated congestion: A glass shower door is an invisible barrier. The pedestal sink takes up little real estate. The window has an adjustable shade, so you can see beyond the wall when you don't need privacy. Even the storage containers on the shelves are transparent.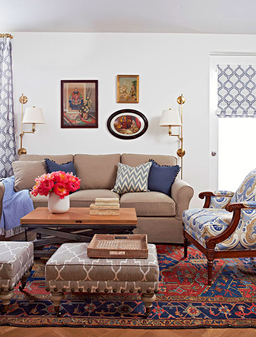 4. Be Flexible
Living in a small home often means combining multiple functions into one space, so choose furniture that's up to all the required tasks. In the main living/dining space of this apartment, the coffee table rises on its metal base, becoming a dining-height table or even a bar when needed. It's on casters, so it can be wheeled anywhere in the room. Footstools can also become seating for a crowd.
5. Emphasize Storage
Make storage a priority. Tailored, wall-hugging built-ins are best, but if you can't build in shelves and cabinets, buy slender furniture pieces that snug up to the wall. They offer floor-to-ceiling spots to store and display items, while freeing up precious floor space for furniture and traffic flow. Built-ins on either side of the fireplace in this cute little cottage combine cabinets, shelves, and cubbies for a variety of items. The owners took advantage of wall space behind the front door, too, to tuck in another shallow bookcase.
Source: Better home & garden
The 47th Jinhan Fair
Jinhan Fair Online Exhibition