Stellar retail, then and now
2017.02.15
---
A lot has happened in the 10 years since May of 2005 when Home Accents Today presented its first Retail Stars list, honoring independent brick-and-mortar retailers.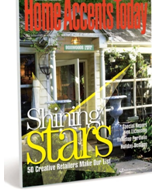 Retail Stars debuted in the Home Accents Today 2005 issue.
Our 2005 Retail Stars nomination form didn't have a section for social media, nor did it offer Las Vegas as an option in the "tradeshows" box, since neither of those existed. We did ask for a "Web Address," though, something 10 of our 2005 retailers left blank.
By all appearances, the 2005 Retail Stars appeared to be quite solid businesses, with only 12 stores reporting prior year sales of less than $1 million, compared to 21 stores this year.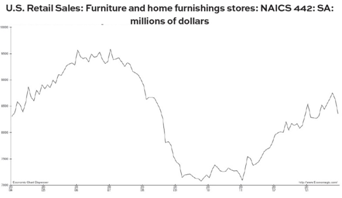 Consider, though, that U.S. retail sales of home furnishings were higher in 2004 than last year — $8.905 billion compared to 2013's $8.358 billion — numbers that don't reveal much more than a small dip, until you consider the roller coaster ride that got us there. That ride includes the climb into 2006 and 2007, when U.S. furniture and home furnishings stores collectively enjoyed 24 straight months of sales above $9 billion, followed by the nose-dive that took us into the lean years of 2009 and 2010 when home furnishings sales hovered just above $7 billion. This graph (right) says it all.
2005 RETAIL STARS: WHERE ARE THEY NOW?
The U.S. Department of Commerce's retail sales numbers include chain stores, discount stores, online and catalog retailers, so they don't tell us much about how the independent retailers and family-owned stores that are the focus of our Retail Stars feature have fared. So, I decided to do a little research. Here's how our very first 50, the Retail Stars of 2005, survived the roller coaster ride of the last 10 years:
Eighteen of the 2005 Retail Stars have closed their doors, some a casualty of the economy, others the result of a decision to "try something different."
Of the 32 stars that are still in business, several have opened larger or additional locations, including A Classic Design (now Carla's, A Classic Design, Centennial, Colo.), Cobblestone & Vine (Little Rock, Ark.), Homescapes Carmel (Carmel, Calif.), Pastiche Botanica (Dennis Port, Mass.), Persnickety (Madison, Miss.), Shades of Light (Richmond, Va.), Watson Kennedy (Seattle) and Wild Orchid (Virginia Beach, Va.). Following a fire that took place in 2011, Savanna at Home (Bronxville, N.Y.) reopened a year and a half later in a "new and better location" in the same town. One of the 2005 Retail Stars, Domain XCIV, is a sister store to 2014 Retail Star DH Collection, both of which are located in Fort Worth, Texas.
Eight of the 2005 Stars went on to win ARTS Awards: Accessories, Etc. (Bethlehem, Pa.), Ambiance Interiors & Gift s (Suwanee, Ga.), Bella Casa (Portland, Ore.), Elements Distinctive Lighting (Carle Place, N.Y.), Greenbaum Interiors (Paterson, N.J.), Homescapes Carmel (Carmel, Calif.), Moses at Home, (now Moses Design Group, Albuquerque, N.M.) and ARTS Hall of Famer BJ's Home Accents (Newburgh, Ind.). Homescapes Carmel also picked up an ICON Honor in 2011.
The Rose Collection (Los Gatos, Calif.), is now the Cherie Rose Collection, named for owner/interior designer/contractor Cherie Rose, who served as the 2013 president of the National Home Furnishings Association, only the third woman to hold the organization's top elected office.
The 2005 list also included stores run by Lynni Megginson (L & M Designs) and Christi Reeves Tasker (Ambiance Interiors & Gifts), both of whom have since ventured into new design, retail and marketing territories with The Lynni Megginson Companies, Washington, D.C. (Lynni), and Puttin' Out, Las Vegas (Christi).
Hilda Flack (Hilda Flack Interiors, Palm Beach, Fla.), also a 2005 honoree, told Home Accents Today in an interview last month that she's busy scouting new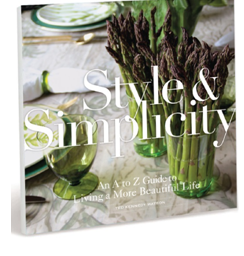 Ted Kennedy Watson's new book, Style & Simplicity, debuts this month. Watson is the owner of 2005 Retail Star Watson Kennedy (Seattle).
Butique locations and exploring product development opportunities. Currently in talks with shopping centers in Boca Raton, Houston and Beverly Hills, she also has plans for a makeup/cosmetics line, a line of antique reproduction furniture and a coffee table book on entertaining. "I've got all kinds of exciting plans. I'm going to just have fun and do gorgeous things," Hilda told us. "I'm just going to see how much trouble I can cause."
Ted Kennedy Watson, owner of 2005 Star Watson Kennedy (Seattle), is finalizing plans for a tour to promote his new book, "Style & Simplicity" (Sterling, N.Y.), out this month in bookstores and at Amazon.com. Ted described it to me as an A-to-Z guide to living a more beautiful life. "It includes design ideas, recipes, tabletop ideas, flowers — all things I love. I photographed it as well and am delighted with the result." Book signings kick off this month in New York City at Dempsey & Carroll (May 18) and the National Stationery Show (May 20).
Shades of Light (Richmond, Va.) is now a multi-channel designer and retailer of lighting, rugs, mirrors, accent furniture, wall décor and home furnishings, with Shades of Light stores in Richmond and Virginia Beach, and a Decorating Outlet store in Richmond. Bay Shore Lighting and Home (Bay Shore, N.Y.) morphed into WillyNilly@Home, operated today by the daughter of the lighting store's owner, selling home accessories, gifts and specialty foods. Lyn's Linen Shoppe (Idaho Falls, Idaho) is now a source for ladies and babies apparel, accessories and gifts.
Not long after being named to the 2005 list, Terri Bowersock, owner of Terri's Consign & Design Furnishings (Tempe, Ariz.), put her life and business on hold to search for her mother, who was kidnapped and tragically found dead a year later. Terri's absence and the recession took a toll on her business but, according to her website, shopterris.com, she's reinvented and rebuilt the company with a new team.
THE CHALLENGES OF RETAIL, TODAY
As mentioned earlier, not all of our 2005 Retail Stars are still retailing. And it's highly likely that 10 years from now, some of our 2014 Retail Stars will have shuttered their stores.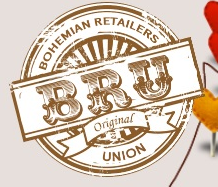 Rather than share my thoughts on the challenges our Retail Stars and independent retailers are facing today, I thought it best to ask a pro. I found that in Barbara Mooney, one of this year's Retail Stars and the proprietress of Daisy's, with locations in Alameda and Oakland, Calif. Barbara is a member of a group of retailers called Bohemian Retailers Union, a small collective of independent shopkeepers who get together online and talk about issues pertaining to small retailers.
Here's Barbara's list of the top 10 challenges facing independent retailers today, counting down from the least (number 10) to the biggest (number 1):
10 Customers assume you are doing this as a hobby and it isn't a serious business.
9 The words "small business" in today's market place is not consistent, so the message we are sending isn't consistent.
8 The scary fine line of pacing your growth (both the part you can control and the part you can't).
7 Theft – stealing by both the employee and the unsuspecting customer.
6 Really understanding credit card processing fees and getting the best plan for your store.
5 Working out the fine line of working with reps.
4 Employee issues, and making sure policies and procedures work for everyone.
3 Giving amazing customer service, even when the customer doesn't feel like being nice back.
2 Putting on your accountant hat every day for at least an hour when what you REALLY want to do is create a new display.
1 Vendors who relied on us to build their brand and then sell to big-box and/or discounters, yet want us to stay loyal.
Source: Home Accents Today
The 48th Jinhan Fair
Jinhan Fair Online Exhibition