Pantone reveals 2015 Home + Interiors forecast
2014.04.04
---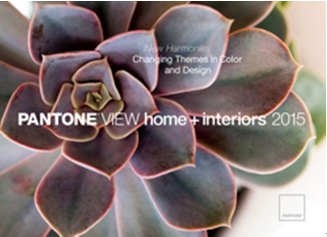 Global color authority Pantone today revealed its Pantone View Home + Interiors 2015 forecast, featuring nine key trend palettes expected to influence interiors next year.
"While rigid color rules have been replaced by more creative guidelines, style and color coordination in the home remains a consistent goal," said LeatriceEiseman, executive director of the Pantone Color Institute. "The Pantone View Home + Interiors 2015 forecast can validate some pre-conceived color choices, while also giving new color inspiration and direction."
The nine palettes for 2015 are:
Style-Setting: The purple family of colors plays against mahogany, off-white, gray and taupe, and picks up some shimmer with Frosted Almond and Champagne Beige.
Abstractions: Color pairings that might at first blush appear to be random, including grape and apricot, Red Dahlia, Stonewashed blue, Hazel brown and Vineyard Green.
Botanicum: A sophisticated grouping of natural hues, including shadings of green, grape and Café au Lait, often counter-balanced with dusty or smoky tones of blue and orchid.
Zensations: Offsetting shades from the blue and blue-green family with a compelling red, an atmospheric green and sparkling silver and gold.
Urban Jungle: Civilizing chaos by marrying animal skin tones with deep blue-greens, a vibrant greenish yellow, plus black and white.
Tinted Medley: A harmonious medley of closely related, warm tones of peach and pink including Bellini, Apricot Wash, Peach Amber and Macadamia underscored by roses and yellows as well as a rosy-taupe.
Past Traces: Contemporizing "gently worn" shades such as Pastel Parchment, Cameo Green, Faded Denim and Dusty Cedar.
Serendipity: A melange of "unlikely designs and unexpected colors," including orange and Eggshell Blue, Bright Chartreuse and yellow gold, hot pink and scarlet – with Tiger's Eye taupe as a neutral.
Spontaneity: Upbeat hues of Sunkist Coral, Marigold and cantaloupe are complemented by Kelly Green and floral accents of Hyacinth, Violet Quartz, Winsome Orchid or Misty Jade.
Source: home accents today
The 49th Jinhan Fair
Jinhan Fair Online Exhibition