Isetan Mitsukoshi expects sales drop
2014.04.04
---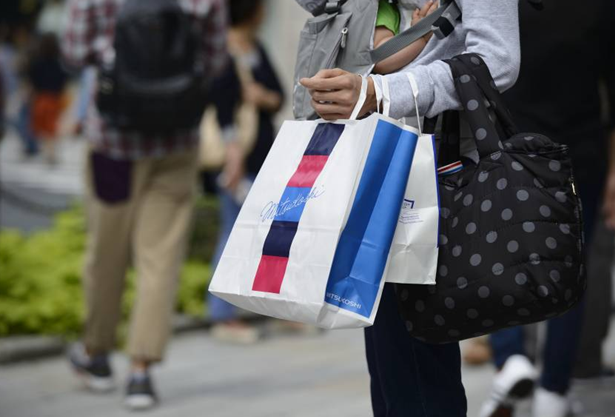 A woman carries a Mitsukoshi department store shopping bag in Tokyo's Ginza district last September.
Isetan Mitsukoshi Holdings Ltd. expects its sales outside the Tokyo metropolitan area and other urban areas to decline for a prolonged period after the consumption tax is hiked on April 1, its president said.
"The prospects for sales in provincial areas are harsh," Hiroshi Onishi said Monday in an interview. The sales tax will rise from 5 percent to 8 percent.
Onishi emphasized that the company will take measures, including store renovations, to diminish the likely negative impact of the tax increase, aiming to gain support from shoppers even in adverse economic conditions.
Onishi said that every item will be affected negatively by the tax hike in terms of sales in the April-June period.
Current brisk sales of high-end items such as brand-name products will prove to be short-lived, while clothing, sundry products and others, which have not profited so much from last-minute demand before the tax hike, are likely to see sales become sluggish in April and later, he said.
As a result, sales nationwide are expected to decline by 2 percent to 3 percent in the year through March 2015, he said.
Onishi said the company will regard its Queen's Isetan food supermarket business and credit card business as pillars of Isetan Mitsukoshi Group growth, alongside its mainstay department store operations.
He said the company "has to eye the possibility of merger and acquisitions as well as business alliances with other companies" in the supermarket business to increase earning power.
On the overseas department store business, Onishi suggested that the company intends to explore the possibility of opening large stores in Singapore and Malaysia, where it already has outlets.
"We want flagship stores," Onishi said.
Source: japantimes
The 48th Jinhan Fair
Jinhan Fair Online Exhibition