Ceramic Industry in Dehua County Records Rapid Growth Despite Global Recession
2017.02.15
---
Development of ceramics industry in Dehua County
(The Famous Ceramic Street in Dehua County)
Dehua County is one of China's ten major ceramic producing areas. It is known as one of the three "birthplaces" of Chinese ceramics, along with Jingdezhen and Liling City. In 1993 Premier Li Peng honored Dehua County as a "China National Pearl" and awarded the name of "China Ceramic Town."With more than 1,100 manufacturers, trading companies and workshops, Dehua County is the largest place of production and export base of ceramic products in Fujian Province.
Dehua County is part of Quanzhou City, with a population of over 280,000. More than 80% of its annual ceramic product output is exported, accounting for more than 90% of ceramic products exports in Fujian Province. Products are mainly exported to the U.S., European Union, ASEAN countries and the Middle East, as well as many other places in the world.
In the first 3 quarters of 2013, exported value of ceramic products in Dehua County recorded a 16.2% increase over the same period last year; totaling $230 million. Export value in September alone registered a 56.6% increase over the same period last year; totaling $40.38 million. Export value to the United States jumped 16.2% over the same period last year to $52.21 million and accounted for 23.1% of total export value of ceramic products in Dehua County.
Export value to the European Union was adversely affected by anti-dumping duties and dropped 9.6% over the same period last year to $52.87 million; accounting for 23.4% of total export value. However, export value to ASEAN countries, Africa and South America saw steady growth at $25.67 million, $15.72 million and $13.49 million respectively; increasing by 10.8%, 34.4% and 31.2% respectively.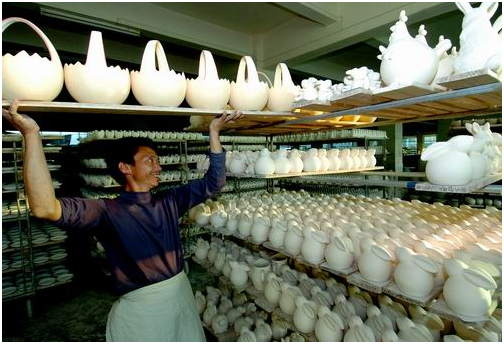 In the last decade, ceramic manufacturing in Dehua County has grown dramatically. However, manufacturers are now facing several challenges including the appreciation of the Chinese Yuan, rising labor costs and material costs.
Moreover, anti-dumping duties imposed by the EU, Mexico, Brazil, Russia, Kazakhstan and Belarus on China's ceramic products in the past few years made the future of ceramic industry in Dehua County looked somewhat bleak. Fortunately, manufacturers made great efforts to survive the predicament and explore different solutions.
Desheng Group is a successful example which benefited greatly from product design improvement. Zeng Huaye, general manager of Desheng Group revealed their secret to success.
Good design helps increase orders more than 50%
"There are two critical factors in ceramic manufacturing: the so called "hardware," which includes facilities, equipment, materials and craftsmanship; and the "software" which is product design," said Zeng. "Gaps in hardware among manufacturers in Dehua County tend to be small. The difference comes from software. Better industrial design is helping this industry expand into a 'smiling curve' at both ends," he said.
"We have achieved a 50% increase in orders by attending tradeshows recently. In the past, we made lots of product samples and piled them up on the shelves without really knowing what overseas buyers wanted," said Zeng,
"Last year, we cooperated with foreign designers and invested our resources in product design. We also arranged our booths according to different themes, such as Christmas and Easter, etc. Although we substantially reduced the amount of product samples on display, we actually received more orders! The secret lies in the added value brought about by outstanding design."
Product development as core competency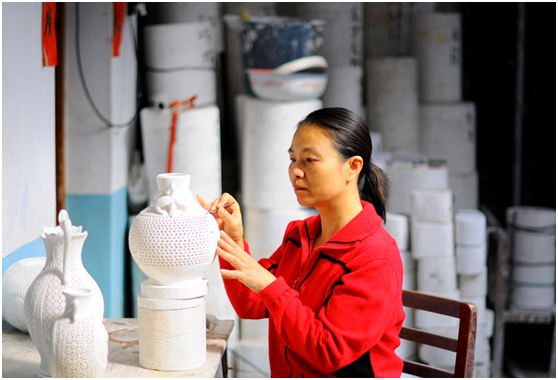 (Famous local ceramic artisan Chen Minghua painting a jar)
For many ceramic manufacturers in Dehua County, product development has become a core competency. Xu Haiyan, general manager of Shunmei Group, pointed out that their ceramic products took less than one year to gain more than 10% of market share in Europe. Keys to their success were five European designers they employed to tailor specific products for European markets.
In the past few years, Shunmei Group invested their resources into product development, including a huge showroom demonstrating their products and the ceramic culture behind. They have also innovated with lots of DIY ceramic products which consumers can work on with supporting accessories and tools. Those products won them huge orders lately.
Local government support
Dehua County Government is also willing to help their ceramic manufacturing industry grow and transform. Over the years, local government helped establish 16 innovation platforms which allowed technology companies, design companies and other service providers to provide comprehensive services to manufacturers. Local government also encouraged 28 leading manufacturers to forge an innovation and strategy alliance.
Other than product development, Dehua County Government is also eager to help manufacturers improve product quality, as an important solution to counter international trade protectionism.
In November 2013, the Quality and Safety Demonstration Zone of exported ceramics products in Dehua was established. Currently there are 82 ceramic manufacturers in the zone who have obtained export quality certificates and authentications, the second highest among National Production Zones. Among these manufacturers, 18 have registered annual outputs of $3.3 million, and 33 of them have passed ISO9000 standards
Tradeshows Help Dehua County Boost Exportations
Tradeshows have become a major channel for local enterprises in Dehua County to connect with international customers. Among various international tradeshows held throughout China, Jinhan Fair is one of the most important tradeshows for them to expand business, because it is by far the most professional international tradeshow specifically targeting home decoration products. Over the years, Jinhan Fair has established global recognitions among major international retailers that more than half of the top 100 retailers in the world pay visits to Jinhan Fair regularly.
The 48th Jinhan Fair
Jinhan Fair Online Exhibition