Conghua Hot Spring is located in the northwest of Conghua County and is situated at a distance of seventy-five kilometers from Guangzhou. The nearby areas of the Conghua Hot Spring is fantastic and only two kilometers away from the Conghua Hot Spring in Guangzhou are three waterfalls: Fragrant Power Fall (Xiangfenpu), Rainbow fall (Feihongpu), and Baizhanggeitao (meaning "cascade poring down from hundreds of meters above") Fall.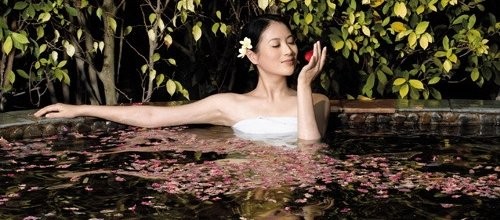 The adjoining area of Conghua Hot Spring is bestowed with a beautiful natural environment and serene bucolic landscape offering a plethora of fresh air, green mountains, meandering streams, and ancient landmarks like Bi Lang Bridge, Di Cui Pavilion and Tao Ran Hall and many more.
The Conghua Hot Spring Scenic Area was originally established in the Ming and Qing Dynasties and it is considered as a popular national tourist attraction and health resort. The Conghua Hot Spring is segmented into east district and the west district offering hotels and other residential accommodations for the visitors. The refreshing warm water in the Conghua Hot Spring froths to the surface at 12 different springs and the clear water are enriched with more than 10 kinds of rich minerals like calcium, magnesium, and sodium and it enjoys an average temperature of 60 degrees centigrade.